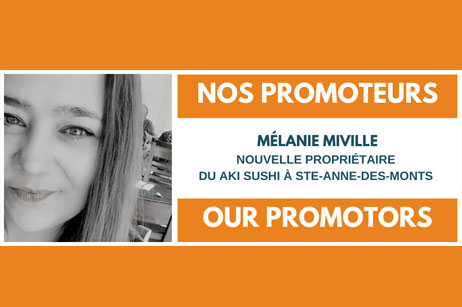 New promoter: Mélanie Miville
It is with pride that Accès Micro-crédit Gaspésie presents Mélanie Miville, one of its latest promoters. Mrs. Miville is the new owner of Aki Sushi in Sainte-Anne-des-Monts. The loan granted by Accès Micro-crédit Gaspésie allowed Mrs. Miville to have the down payment needed to acquire the business.
Mélanie has worked most of her career with the public. Assistant manager at the IGA for several years, she then decided to work with the elderly in a residence. Mrs. Miville worked there for over 4 years before going to work for Aki Sushi in Sainte-Anne-des-Monts. At the time, she wanted to take on a new challenge. After three years as an employee at the Aki Sushi franchise in Sainte-Anne-des-Monts, the former owner offered Mélanie the opportunity to buy the franchise. Mrs. Miville mentioned that she had thought about this offer for a few months before finally deciding to jump into the entrepreneurial adventure by buying the franchise.
WHY DID YOU DECIDE TO GO INTO BUSINESS?
Mrs. Miville tells us that the purchase of the franchise was a great way to continue the work she had already been accomplishing for the past several years. "I could see myself taking the leap," Mrs. Miville said.
BECOMING AN OWNER DURING A PANDEMIC:
Mélanie started her entrepreneurial adventure in the middle of the COVID-19 crisis. She mentioned that she had a lot of concerns at first and had to adjust quickly. "I had a lot of questions when the pandemic started," Mrs. Miville said. Faced with this extraordinary situation, Mrs. Miville made quick decisions to ensure that the company "got through it". She says she received support and advice from the chain and had to "follow my instincts". Today, Melanie tells us that the company is doing well and that she is "very happy to have persevered" despite these uncertain times.
MELANIE'S ADVICE TO NEW ENTREPRENEURS:
"My advice is not to be afraid and, above all, to surround yourself with good people," Mrs. Miville said. She mentions that as an entrepreneur "we often fall into the unknown". Being well surrounded and not hesitating to ask questions are the elements that allowed Ms. Miville to take the leap and become the owner of her business.