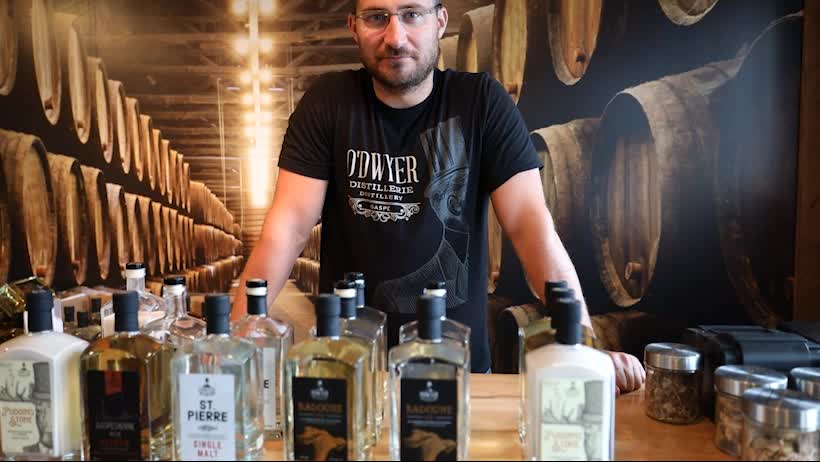 Starting a business: Michael Briand – Distillerie O'Dwyer in Gaspé
On July 8, 2020, we met Michael Briand, co-owner of the first distillery in Gaspésie. Michael and his partner, Frédéric Jacques, started the distillerie O'Dwyer in 2016. Michael grew up in Sudbury, Ontario. As a child, Michael visited his father's relatives in Douglastown. At the time, Michael told his grandmother that one day he would come to live in Douglastown. At the age of 19, Michael decided to study at the CÉGEP de la Gaspésie-les-Iles. Today, Michael lives with his wife and children in Gaspé and is the co-owner of a successful business in the region. We went to meet Michael to discuss his entrepreneurial journey. What does entrepreneurship mean to him? How did he become an entrepreneur?
AMCG: IN YOUR OPINION, WHAT DOES IT TAKE TO BE AN ENTREPRENEUR?Michael Briand (M.B.): In my opinion, being an entrepreneur means taking risks and doing something you are passionate about. It is also important to surround yourself with good people who will not only challenge you, but also help push you in the right direction. When I started my business, being an entrepreneur simply meant doing something different that had never been done. When I realized that there was no distillery in Gaspésie and that I had been passionate about this field for several years, it was easy for me to decide to start this entrepreneurial adventure.
AMCG:  HOW DID YOU BECOME AN ENTREPRENEUR?
M.B.: I don't know if I consider myself an entrepreneur at the moment, but to achieve a dream and have a passion at the same time was something that I have always been passionate about. It was a combination of many things that made me start a business, but above all, I saw an opportunity to create a business in Gaspésie and I took it. The support from my wife is also a big part of it. As I watched my children grow up, I also wanted to show them that it is possible to do something you are passionate about and to achieve your dreams.
AMCG: IN YOUR OPINION, WHAT ARE THE ADVANTAGES OF BEING AN ENTREPRENEUR?
M.B.: In my opinion, the main advantage of being an entrepreneur is the complete freedom you have to do what you want when you want. As entrepreneurs, we have the freedom to explore a multitude of avenues that we don't necessarily have when working for someone else. Of course, as a business owner, you might have to work twice as hard as you expected, but having the freedom to make a product you want to see in the market is, in my opinion, one of the advantages of being an entrepreneur.
AMCG: IN WHAT CIRCUMSTANCES HAVE YOU LEARNED THE MOST ABOUT ENTREPRENEURSHIP?
M.B.: I realized when I was about to go into high school that I wanted to be an inventor, an entrepreneur. The summer between sixth grade and high school, my aunt, an entrepreneur, would take me to business fairs. When I was a kid, I wanted to be an inventor. When I went to these fairs with my aunt and saw all those entrepreneurs and inventors presenting their products, I realized that it was possible to become an inventor, an entrepreneur. That's when I realized that this is what I wanted to do in life. I wanted to do something different. I realized early on that I wanted to be passionate about something and I wanted it to be my life.
AMCG: WHAT WAS YOUR BIGGEST APPREHENSION ABOUT ENTREPRENEURSHIP?
M.B.: My biggest apprehension about becoming an entrepreneur and starting my business was the risk that it wouldn't work out. There are people who rely on you and so if it doesn't work, what do you do? Also, we were the first to start a distillery in the region, we didn't know how people would receive our business, our idea, our products. Surrounding myself with the right people at the right time has been a key element in the success of our company. I have five mentors, some of them don't even know I'm their apprentice. I think it is very important to have mentors with experience, who have gone through what I am going through now. With this support, we have succeeded and I am proud of it.
AMCG: LOOKING BACK, WOULD YOU HAVE DONE ANYTHING DIFFERENTLY ABOUT YOUR BUSINESS?
M.B.: The only thing I would have done differently with my business would be to change its location. We didn't expect to sell our gin, our products at the distillery. It's a law that changed after we bought the building. So, if there's one thing I would have changed, it's to put the distillery along Highway 132 and be more focused on the tourism industry.
AMCG: WHAT WOULD YOU LIKE TO SAY TO FUTURE ENTREPRENEURS ABOUT ENTREPRENEURSHIP?
M.B. : I would like future entrepreneurs to know that there will always be a risk when starting a business. Your project may not work out, but you may also succeed. Surrounding yourself with the right people at the right time is very important and can definitely increase your chances of success. Taking a risk is part of entrepreneurship, but planning, having a business plan, knowing your market and providing a product that meets a need in the local economy are elements that will allow you to succeed.